33 Girls Teams Partake in Bop Rainbow Cup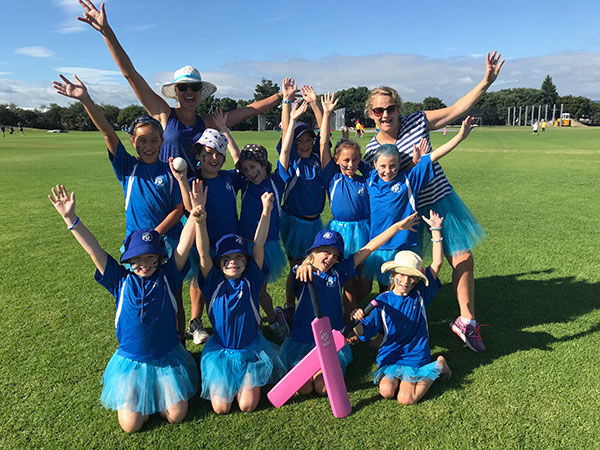 14 Mar 2020
Wednesday March 13 was a big day for Bay of Plenty Cricket, hosting their largest female cricket event for the season. Western Bay of Plenty's (WBOP) Rainbow World Cup took place at Bay Oval, Mount Maunganui in stunning sunshine. It proved to be a huge hit with all involved.
The Rainbow World Cup is the Festival Day that brings the hugely popular GoGirls programme to a close for Term One. GoGirls is a year four-six coaching programme where students take part in weekly practice sessions to prepare for the Rainbow World Cup.
33 teams from all over WBOP took part in the festival day which focuses on fun and participation over results. There were 20 schools taking part, meaning close to 300 girls were playing cricket; and loving it! The purple outfits of Golden Sands School were hard to miss, especially since they entered seven teams!
Players from Te Puna described the cricket as "fun", "enjoyable" and "exciting". They love all aspects of the game, and when asked what their favourite part of cricket was, the team had all the bases covered, saying they loved batting, bowling, throwing and cheering on their teammates!
The most sought-after prize was the Best Dressed Award. All of the teams made a great effort to win this prize, with teams dressed in brilliantly bright colours, tutus, face paint, wigs and more! Teams also received prizes for Best at Practice, Good Cricket Attitude and Most Improved. Three players were highlighted as 'Future Ferns' who may go on to higher cricketing honours and received a bat to practice their skills at home.
With simple score sheets, many parents and teachers were involved in running the games and supporting the girls on the field. Also in attendance were GoGirls programme graduates who returned as high school supervisors for their young counterparts as well as community youth volunteers. It takes a whole community to make a day such as The Rainbow World Cup such a success!
With the Rainbow World Cup sister event taking place in Taupo in a couple of weeks, even more enthusiastic and colourful girls will be playing cricket and loving it!