800 and Counting for Academic ND Selector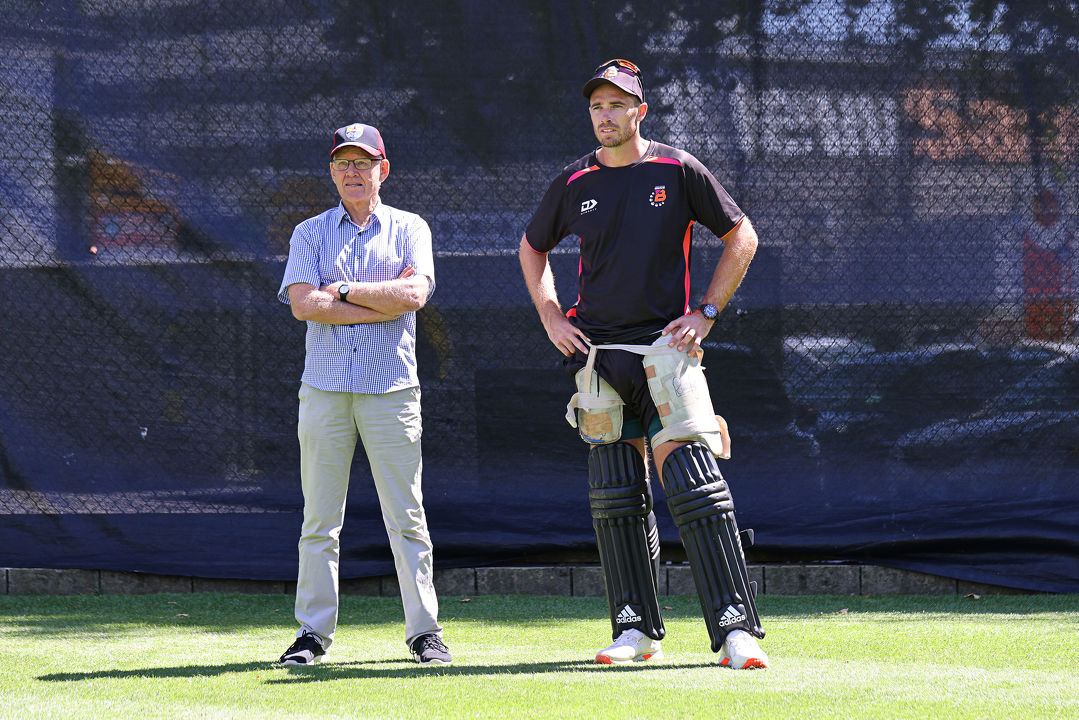 31 Mar 2022
Pat Malcon has spent nearly thirty years as the Chairman of Selectors for Northern Districts, having picked close to 800 teams during his tenure. Originally a secondary school deputy principal, Pat's love for coaching sport compelled him to make the move to ND.
"Teaching [was] my main career and I'd come to the decision I didn't want to be a principal because I was massively involved in coaching sport, that's what I loved. And it wasn't just cricket, I coached senior rugby for 20 years. 1st XV rugby for 20 years, often doing both teams in an area, both the local 1st XV and the local senior team."
"That side of things was starting to become more appealing to me than what was becoming more of a bureaucratic role for principals in secondary schools, so when ND came it was probably about the right time."
Having played first class cricket for Wellington in the 1970s, Pat says he takes pride in being a part of Northern Districts rise to becoming one the leading major associations in the country.
"I think with ND, perhaps with the history of it, you always had the sense you were a little bit of an underdog and that you were fighting against the established major associations. We were the newest kid off the block. Certainly, in my playing days, Northern Districts was looked down upon a lot as not being a strong association. And so being able to put in place programs that helped established us, not just as a strong New Zealand major association but one that could stand up anywhere in the world was one of the things I look back most proudly about."
The Northern Districts region is made up of six District Associations (DA) spread across the North Island. Being such a large region brings plenty of challenges, but Pat placed a large emphasis on being inclusive to all the DA's.
"When I started with ND the relationship with the DA's was not as strong as it should have been. It was a bit of a them and us and that partly reflected what the situation was in those days."
"But it was always a key principle for was to get around all the DA's and see them, go to board meetings and build relationships."
"You always had to work on the principle when you were talking about developing players that, a talented young player in Gisborne or Taupo or whatever, should have an equal chance of the making the top [side] as someone who was just fortunate enough to grow up in a major cricketing centre. So that was always a key factor."
Never one to shy away from change and evolution, Pat highlighted the importance of impending the 'stage not age' philosophy in which he followed academic research about the development of high-performance athletes.
"One of the things I did in the early days was to go to the ND board and I asked them to change one of my KPI's [Key Performance Indicators] from developing age group rep teams that would win national tournament to developing BLACKCAPS."
"[This philosophy] meant you extended players and that's what makes them better rather than sitting in their own age group where all that you develop is comfort zones."
"So that if you had a talented young player, the way you made him better was to extend him. And often that was to take them out of their own age group. So, players like Kane [Williamson] and Tim [Southee], we accelerated them ahead of their age groups."
Northern Districts make up seven of the twenty BLACKCAPS contracts for the 2021/22 season, as well as Brooke Halliday picking up a WHITE FERNS contract and Kate Anderson having a Women's development contract. Pat says he takes great pride in helping the association develop national and international stars of the game.
"We've had a number of people be rated number one in the world in the last decade you know from Daniel Vettori and Nicola Browne, who I started playing cricket. And you know Tim and Trent [Boult], Kane and if they had rated wicket-keepers BJ [Watling] would've been one too. So that's been rewarding it's shown that our association can [produce] not just New Zealand class players but world class players so that's a good reward."
One of the things Pat loves most about his time here at ND is seeing people grow up from talented young cricketers to adults who pass on their love for the game to kids of their own.
"[I] enjoy seeing the development of players and not just the cricketing side of things, [also] their development as people."
"Seeing these people grow up and become adults and sometimes not the ones that reach the top in cricket but ones that got a lot out being in our programs I think was significant."
"Seeing a lot of the players that I've coached or worked with over the years now as parents of young players and seeing a lot of them moving into coaching roles, that's just as encouraging as seeing your top team walk out there and perform."
Photo Credit: Photosport