Felicity Leydon-Davis makes a move after 12 years with the Spirit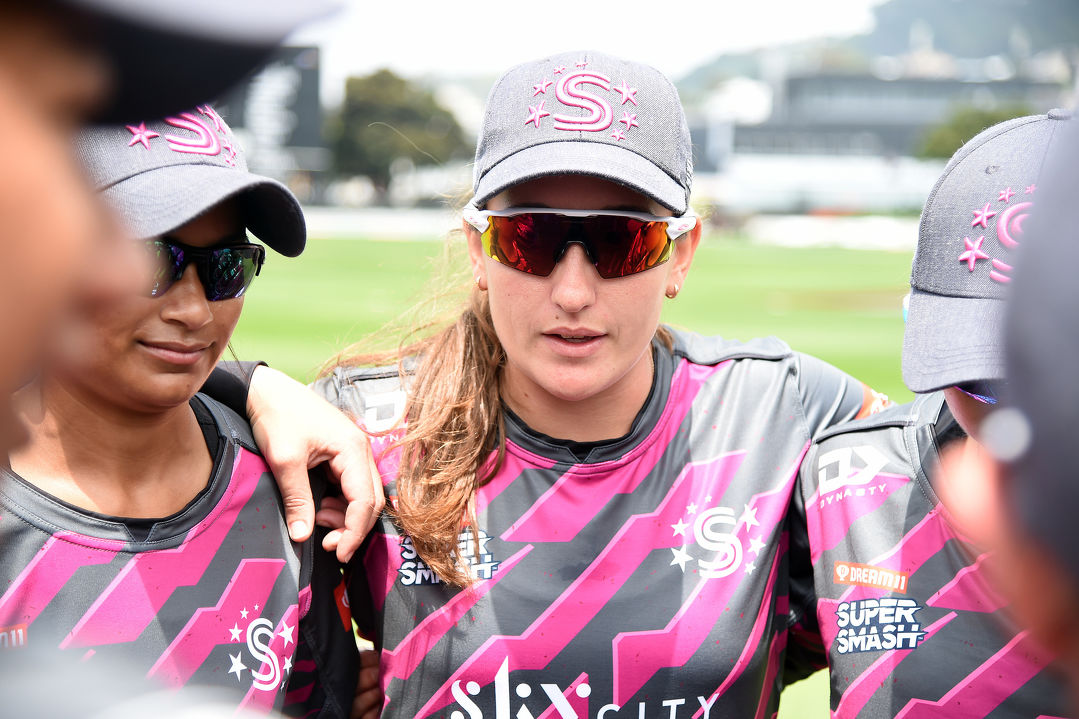 5 May 2021
After the retirement of club stalwart Jimmy Baker was announced earlier this week, Northern Districts is today announcing that former captain of the SkyCity Hamilton Northern Spirit Felicity Leydon-Davis is moving on.
Leydon-Davis holds the record for most matches and most wickets for the Northern Spirit in the shorter format, with 72 T20 games. She took 32 wickets at 42.59 with an economy rate of 7.34 and best figures of 3/21. In her 86 List A games for the Northern Spirit, Leydon-Davis scored 1645 runs at an average of 28.36 and took 73 wickets at an average of 28.68. She is the fourth highest run scorer for the Northern Spirit and the second highest wicket taker.
Leydon-Davis' transfer to Otago has been confirmed, after having made the move to live in Christchurch in March 2020. The decision can't have been an easy one for Leydon-Davis after 12 years in the Northern Districts framework.
"I'd like to thank Northern Districts for their support over the years and their ongoing commitment to the women's game. Firstly, Cliff Dickeson for introducing me to the Northern District's scene. But more recently, GM High Performance Daniel Archer, CEO Ben MacCormack and the team at ND have been a great support and advocate for the me and the Northern Spirit over the past few seasons. The calibre of the coaching staff with Joanne Broadbent now involved full time, has been a huge benefit to the women's programme." Leydon-Davis said.
Head Coach of Northern Districts' Women's Programme, Broadbent acknowledged the influence Leydon-Davis has had during her tenure.
"Felicity contributed to our environment greatly over a number of years. The HBJ final last season being a highlight, scoring a century in what was a brilliant batting performance." Broadbent said.
Having played eight International T20 matches and one International ODI for the WHITE FERNS, there's no doubt earning the fern again after a five-year hiatus will be on the agenda for Leydon-Davis, something coaches and support staff at Northern Districts would be extremely proud to see.
"Whilst we are losing her experience and leadership, we wish her all the best for the next steps in her career." Broadbent continued.
Despite being sad to farewell the Northern Districts family, Leydon-Davis is excited by the opportunity this next phase of her career presents.
"ND has always been my home and the region has provided me with a great performance pathway to help get me to where I am today. I will always be proud of my time playing for ND." Leydon-Davis commented.
"It is a sad day for sure, but I know that the timing is right, and I'm very excited about the next step. I'm proud to have represented ND for so long." She continued.
"To my teammates, I know that I will have many lifelong friends and I look forward to seeing everyone out on the park next year. Overall, there are so many people to thank from over the 12 years, including physios, strength and conditioning, all support personnel for getting me back out on the park after back surgeries; also, those constant supporters on the side-line, thank you! What a journey it has been!" Leydon-Davis reflected.