INAUGURAL NATIONAL WĀHINE MĀORI TOURNAMENT A RESOUNDING SUCCESS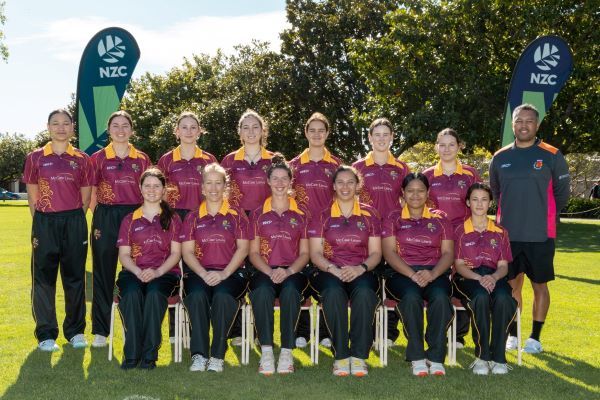 16 Oct 2023
The McCaw Lewis Northern Māori competed at the inaugural National Wāhine Māori Tournament in Hastings over the weekend, coming away with three victories from four matches.
The inspirational weekend of cricket culminated in Central Districts Māori taking out the tournament and being awarded the inaugural Rona McKenzie Taonga by Darren McKenzie, grandnephew of the late Rona McKenzie.
Captain of the Northern Māori side and Northern Brave wicketkeeper, Holly Topp, has expressed gratitude to those involved in the tournament's organisation, and spoken of how the team valued the environment and spirit in which the games were played.
"Firstly, ngā mihi nui ki te kirikiti ō Aotearoa, me ngā Andrew Tara, me ngā Northern Districts hoki. It was a special tournament for all involved and could not have gone ahead without their mahi and tautoko.
"The tournament itself was Te Ao Māori tuatahi and kirikiti tuarua, which was refreshing and meant the spirit in which the games were played was so inclusive, as well as competitive. I can't speak highly enough of all teams involved for this" she said.
Topp felt that the connection between players was fostered throughout the weekend, exemplified by the closing event.
"A real special pō whakangāhau took place at Pukemokimoki marae to conclude the tournament which was a highlight for all whānau. Performances from each team were enjoyed by all. For me, the highlight of the night was when everyone got up and sung 'Tūtira mai ngā iwi' to conclude the evening. This waiata is about togetherness and unity- very fitting for the occasion."
Several Northern Māori players featured in the list of top performers from the weekend. With the ball, Dayle Anderson took 6 wickets at 7.6, and Elle Archer took 5 wickets at 14.2. Northern Brave star Sam Barriball was on form with the bat, nabbing 102 runs at 51.
2023 has been the first year for both the wāhine and tāne national tournaments and they will now be annual features of the cricket calendar in Aotearoa.
Match reports and scoring can be found at: https://play.nzc.nz/news/cd-maori-emerge-inaugural-maori-wahine-national-champions.
The Northern Māori cricket programme was first developed in 2010/11 season. Northern Māori are selected from players in the ND region, incorporating Northland, Counties Manukau, Waikato, Hamilton, Bay of Plenty, and Poverty Bay. Waikato law firm McCaw Lewis Lawyers became the naming sponsor of the tāne and wāhine teams in 2016, and have remained strong supporters.
Photo gallery: https://www.smugmug.com/gallery/n-MgpRjJ
Photo credit: @capturedby_charlie
Northern Māori
National Wāhine Māori Tournament 2023
Dayle Anderson | Tainui
Kiri Anderson | Tainui
Elle Archer | Ngāti Māhanga, Tainui
Sam Barriball | Ngāti Rangitihi, Ngāi Tūhoe
Jessica Benge | Te Ati Haunui-a-Pāpārangi
Mia Chatterton | Te Rarawa
Ella Farrell | Ngā Puhi
Mereana Hyde | Tainui, Ngā Puhi
Zamera Ikiua | Ngā Puhi
Elizabeth-Rose Pengelly Woodhead | Te Aupōuri, Ngā Puhi, Ngāti Hine
Sadie Stewart | Ngāi Tahu, Ngāti Kuia, Te Āti Awa
Holly Topp (C) | Ngāi Tahu
Olivia Tremain | Ngā Puhi, Ngatiwai
Coach: Michael Rameka | Ngāti Tūwharetoa
Assistant Coach/Manager: Mereana Hyde | Tainui, Ngā Puhi