INTERNATIONAL SCHEDULE WILL SEE TEST CRICKET BACK AT ND VENUES THIS SUMMER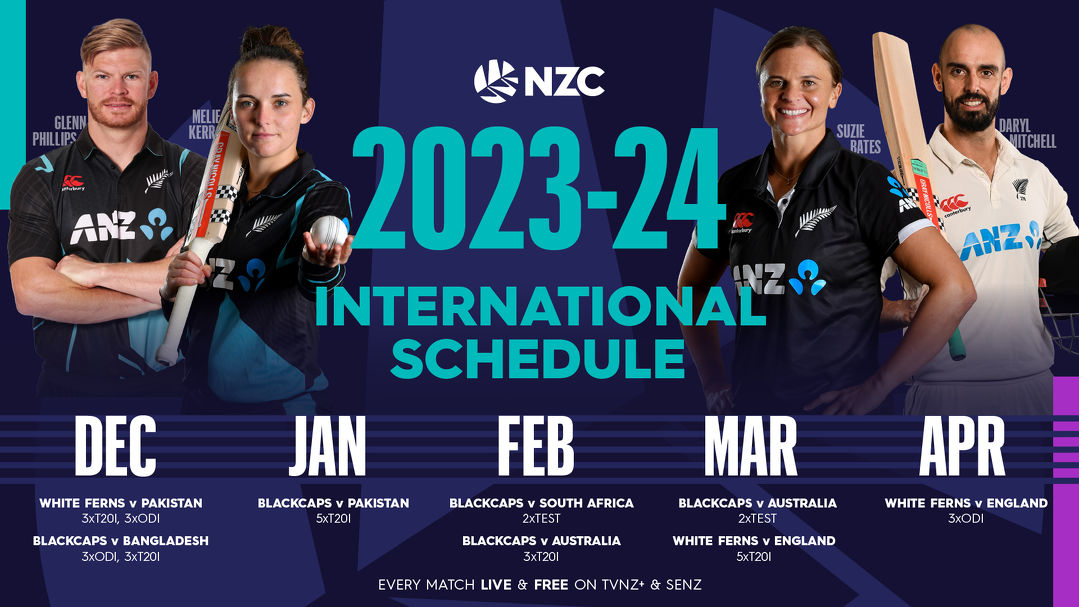 18 Jul 2023
Test series against South Africa and Australia for the BLACKCAPS, white ball series against Pakistan and England for the WHITE FERNS: these are just some of the highlights of an action-packed 2023-24 home international summer for Kiwi cricket fans.
Cricket fans in the Northern Districts (ND) region will be treated to a huge summer of international cricket. The BLACKCAPS, who have never won a Test series against South Africa home or away, will square off against the Proteas in Test matches at both Bay Oval and Seddon Park.
Plus, there's thrilling BLACKCAPS T20I fixtures against Bangladesh and Pakistan, along with two ODI's for the WHITE FERNS against England. The full schedule of fixtures is below.
The first New Zealand international summer to be screened live on free-to-air TVNZ in 24 years will comprise a potential 48 days of cricket, played across 10 venues from Auckland in the north to Dunedin in the south.
A feature of the home international season is the scheduling of no fewer than 10 double-headers, as New Zealand Cricket attempts to address both the needs of different audiences and enhance the efficiency of its playing programme in an era of climate change awareness.
Tickets will go on sale to the general public on Wednesday 1st November, and to Cricket Nation members (register online) from Wednesday, 25th October.
A full schedule of international fixtures can be found at: https://www.nzc.nz/news-items/a-home-international-summer-like-none-before/
2023-24 International Schedule | Bay Oval
BLACKCAPS v BANGLADESH | 2ND & 3RD T20I
Friday, 29 December 2023, 7.10pm
Sunday, 31 December 2023, 1pm
BLACKCAPS v SOUTH AFRICA | 1ST TEST
Sunday, 4 – Thursday, 8 February 2023, 11am
2023-24 International Schedule | Seddon Park
BLACKCAPS v PAKISTAN – 2ND T20I
Sunday, 14 January 2023, 7.10pm
BLACKCAPS v SOUTH AFRICA | 2ND TEST
Tuesday, 13 – Saturday, 17 February 2023, 11am
WHITE FERNS v ENGLAND | 2ND & 3RD ODI
Thursday, 4 April 2023, 11am
Sunday, 7 April 2023, 11am