Kari Carswell leaves ND to take-up NZC role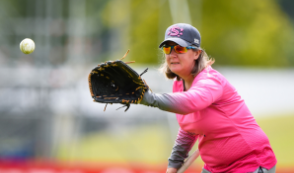 3 Apr 2020
SkyCity Hamilton Northern Spirit head coach Kari Carswell will be leaving her role to take-up an exciting opportunity with New Zealand Cricket.
Carswell, who was also the Northern Districts female pathway manager, joined the Association in September 2016, moving to New Zealand from her native Scotland (who she represented as a player for 18 seasons before taking the coaching reigns for five), to fill the role of women's cricket officer.
Initially moving to New Zealand on a two-year work visa, Carswell also held the position of amateur cricket manager before heading home to Scotland; but she was back before long.
"My plan was to do my two years before heading home to see what I could pick up," said Carswell.
"I remember rocking up to work on my first day at Seddon Park and thinking, wow! I get to work here?! I was so used to working from an office within a school.
"I did head home for four months, but then applied for the Spirit head coach and female pathway manager role: I had a sense of unfinished business with ND, so was really chuffed when I got offered the job."
In her time with ND, Carswell has overseen significant progress in the women's game within the region.
Her appointment alone broke new ground as she became the first full-time women's domestic coach and female pathway manager in the country, giving greater scope to the development of women's cricket.
Carswell's establishment of the Northern Premier League and her guiding of the Spirit to a top-of-the-table finish in the Hallyburton Johnstone Shield round-robin, thus securing a maiden grand final appearance, add to Carswell's legacy from her time with ND.
But for Carswell, the most important thing is that people are simply more aware of women's cricket.
"The main thing is it's on people's agendas now; more people are talking about it more often!
"Yes, it's been tough in the past, but I'm not one to look back at barriers and obstacles, I much prefer to focus on the opportunities that are on the horizon.
"The introduction of domestic contract has been a big step in the right direction, the growing access to better surfaces for domestic teams to play and train on; these are the sort of tool we can now provide the unbelievable talent within New Zealand's system to allow them to improve."
Northern Districts general manager performance and people, Daniel Archer, was full of praise for Carswell and her impact on the Association.
"Through her leadership and coaching, Kari has significantly contributed to the growth of a Spirit programme that people want to be a part of," he said.
"The growth and development of all within the programme, Kari included, is a great reflection of her professionalism and drive as a coach.
"She will be deeply missed at Northern Districts, but we are all excited and proud of her appointment with New Zealand Cricket."
So, what does the future hold for those within the Spirit programme?
"ND have some outstanding cricketers at all levels and with a bit more time, they can certainly be a force to be reckoned with going forward," said Carswell
"There are a number of quality youngsters in our age-group teams and if they keep progressing, they could play international cricket in years to come.
"Cricket can now genuine career for these young players, which I think is incredibly exciting."
Carswell said she has loved every second of her time with ND.
"The whole team at ND have been fantastic, from the minute I walked into Seddon Park it had such an awesome feel about it.
"The morning quiz is superb, twilight golf with the staff, Friday afternoons in the office, playing games in the little office on other match days...these are all things that have made it such an enjoyable environment to work in.
"The team have a real family feel to them and, it's been an absolute privilege to work four summers with them."
Northern Districts Cricket would like to acknowledge and thank Kari Carswell for her contribution to the Association and cricket in the region.