ND WOMEN'S SQUAD FAREWELLS FORMER CAPTAIN BROOKE HALLIDAY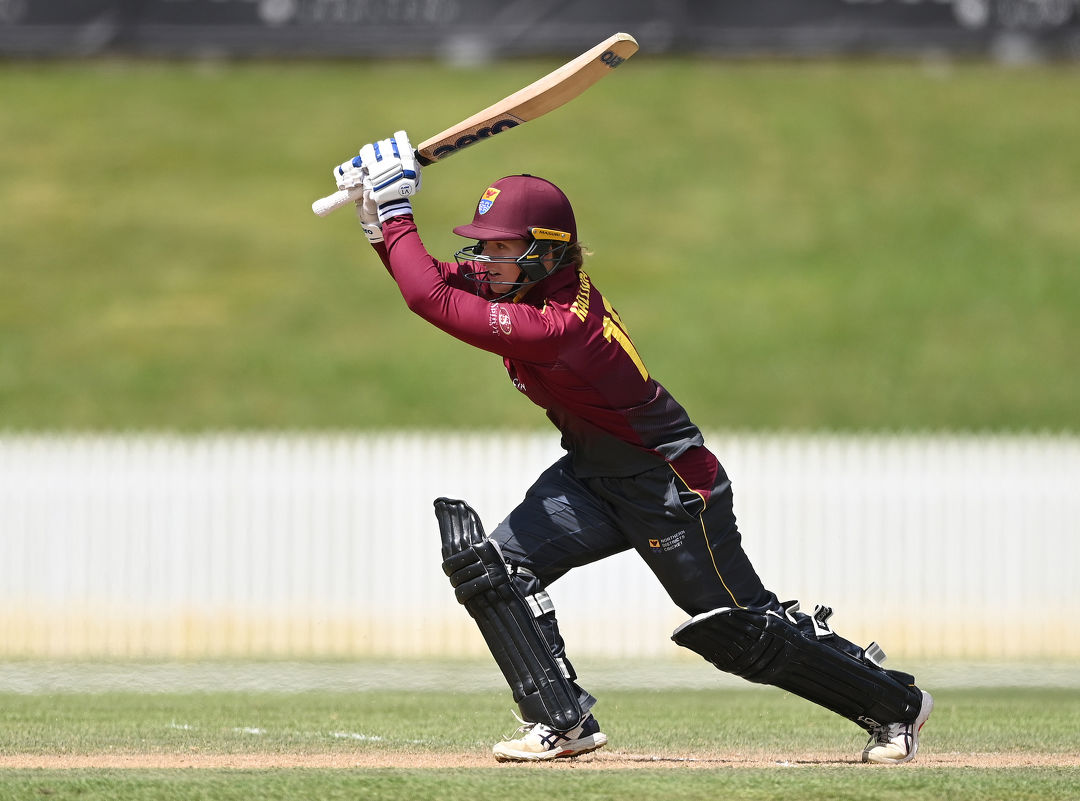 22 Jun 2023
The Northern Districts Cricket Association (ND) has announced that former captain and World Cup-bound WHITE FERN Brooke Halliday will be making the shift to Auckland for the coming 2023/24 season.
Halliday has made a significant contribution to the Association, having been with ND since 2012/13 as a valuable top-order left-handed bat and an effective right-arm medium bowler.
ND CEO Ben MacCormack made mention of the pride the organisation has had in watching Halliday develop as a cricketer, saying "Brooke has been an outstanding contributor to Northern Districts over a long period of time including captaincy. Her family has a long affinity with our region and in particular Counties Manukau of which we know she is really proud of."
Halliday played 63 List A games for ND, scoring 1056 runs. This includes two centuries: 101 not out vs. Wellington at the Basin Reserve in 2020/21; and 106 not out vs. Auckland at Seddon Park in 2021/22. She also took 30 wickets for an average of 26.33 runs with her right arm medium pacers.
She played 56 T20s for ND, scoring 561 runs and taking 28 wickets for an average of 18.71 runs. Halliday captained the side in 2015/16, 2016/17, and again from 2021.
In February 2021, Halliday had a breakthrough season and earned her maiden call-up to the WHITE FERNS squad for their One Day International fixtures against England. Following on from a successful debut where she scored two consecutive half centuries, Halliday was added to the T20 squad and eventually awarded her first central contract from New Zealand Cricket ahead of the 2021/22 season.
"I've enjoyed watching Brooke grow over the past 6 seasons into the leader and cricketer that she has become." Said MacCormack. "We all watched on with great pride as she pulled on the WHITE FERNS shirt for the first time and will continue to cheer her on from afar."
Halliday has played in 20 ODIs with the WHITE FERNS, scoring 393 runs with a top score of 60 vs. England. She has also played 16 International T20s, scoring 113 runs. Used only sparingly as a bowler at this level, she has 4 ODI wickets and a single T20 wicket.
General Manager Performance & Talent, Ian Sandbrook, notes how rewarding it has been to have Halliday with ND and the impact she has had as a leader in the players group.
"Brooke has been an integral part of the Northern Districts team over many years and it's with a heavy heart that she will be leaving us" said Sandbrook.
"Her skill, determination and commitment has always been evident and culminated in her breaking into the WHITE FERNS which was a proud moment for everyone associated with ND and her journey.
"Brooke's leadership has also had a huge influence on the growth and development of our women's programme over the last few years and we cannot thank her enough for her contribution.
Sandbrook is grateful for all the memories Halliday has helped to create at ND, saying "We are immensely proud of Brooke as a cricketer and more importantly, as a person, and I want to thank her for everything she has contributed to ND and we wish her all the best for the future."
Halliday noted that ND has been formative for her career, and she is excited for her next challenge.
"It is with a heavy heart that I shift from ND to Auckland. I've grown up in the ND system and am extremely grateful for the support I've had over the years" said Halliday.
"I feel the move to Auckland is the right one for my career and I'm looking forward to the new challenge ahead.
"I wish ND all the best this season and look forward to seeing both players and ND staff around this summer."
Halliday is currently training with the WHITE FERNS, preparing for their tour of Sri Lanka which begins with an ODI on Tuesday, 27 June.
MacCormack is looking forward to seeing how Brooke's cricket career develops. "We wish Brooke all the best in this next phase of her cricketing journey. She will always be welcome at Northern Districts." he said.