NDCA is delighted to announce umpire panels for the 2023-24 season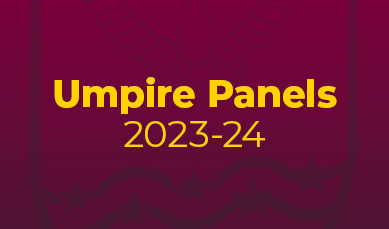 8 Sep 2023
With so much cricket happening in the ND region this summer, the ND Regional Panel has expanded to eight umpires for this season. Congratulations to Texin Thangalathil and John Keen on joining the Regional Panel for the first time. As well as opportunity for growth within the ND regional, a number of regional panel umpires will receive opportunities at NZC level for the upcoming season.
The ND Development Panel reflects the vision to "Grow Our People". During the off season there was a cohesive training programme available to all umpires across ND. The programme was well attended by many and reflected in the growth of umpire's numbers as well as competencies of current umpires. The Development Panel reflects a combination of experienced and emerging umpires. Welcome to some new umpires onto the Development Panel for the first time, with the addition of two mentor umpires to provide on field support and observations.
Another addition is an Observers Panel. This is a first in the country and an initiative to assist umpires on their development. The observers panel did substantial off-season training and will be present at all ND tournaments and representative games to help mentor and support umpires.
Congratulations to all ND Panel representatives for 2023-24. Thanks for your commitment and hard work over the off season. We look forward to seeing you out in the middle, growing and developing and contributing to cricket in ND.
REGIONAL PANEL

Greg Pennell

Damian Morrow

Stu Martin

Brendon Davis

Texin Thangalathil

John Keen

Korie Meadows

Jass Singh
DEVELOPMENT PANEL

Sean Reynolds

Tyler Melville

Jason Trowill

Jack Fraser Jones

Paul Bauer

Phil Reed

Lyall Coleman

Richard Wilson

Andre North

Simon Wood

Bryan Keightley (Mentor)

Mike Friis (Mentor)
OBSERVERS PANEL

Phil Norvill

Glen Schache

Peter Budgen

Mike Friis

Bryan Keightley

Tony Hill

Chris James

Doug Cowie

Luan Kloppers