Northern Districts Captain Brooke Halliday secures WHITE FERNS contract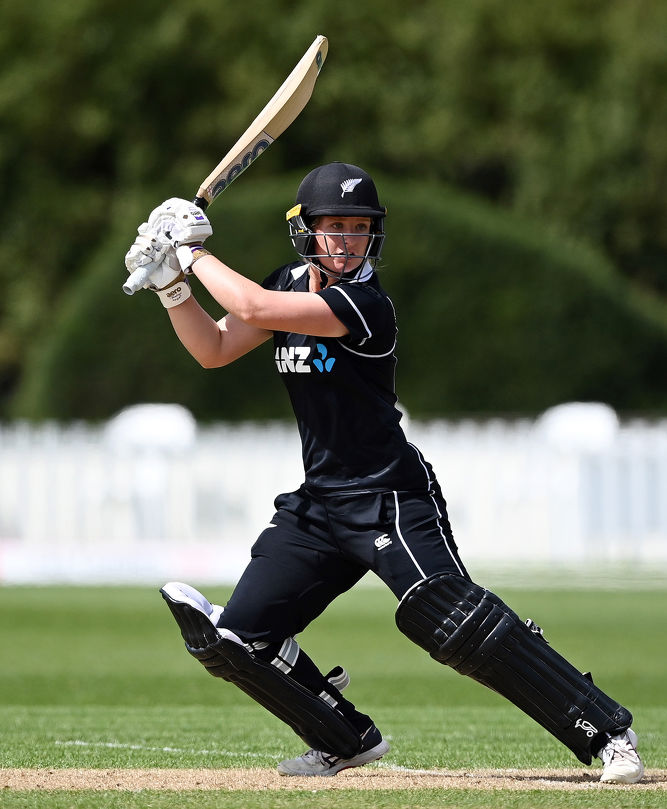 25 May 2021
Northern Districts (ND) is proud to announce Brooke Halliday has been offered her first WHITE FERNS contract after a profound domestic and debut international season.
Halliday made her mark on the international stage after scoring back-to-back 50s in her international debut against England this summer. The now 25-year-old Halliday was first selected for the ND women's side in 2012/13 as a teenager, and last summer she captained the side during the Super Smash.
She kicked off the 2020/21 season with her maiden century for ND in the Hallyburton Johnstone Shield – New Zealand's domestic women's one-day competition. From that point on, ND coaches, support staff and peers have witnessed Halliday's impressive introduction to the international scene.
When she was brought into the WHITE FERNS to play against England, Halliday was the second-highest run scorer in the series, delivering strong individual performances which contributed greatly to the team.
"The last few months with the WHITE FERNS have been pretty amazing and surreal but to be able to top off the summer with being offered a contract just makes the last few months even better." Halliday said.
"Last summer I put a bit more time into my cricket, working with Rob Nicol and Jo Broadbent every week and being able to get the rewards from that has been great." Reflected Halliday.
After seeing first-hand, the work Halliday has put in to develop her game whilst juggling full time work, time in the gym and time in the nets, it seems her coaches weren't surprised with the international call up.
"It is extremely pleasing to see Brooke rewarded for all her hard work. A class player who leads from the front and is the ultimate team player." Broadbent said.
General Manager of High Performance at ND Daniel Archer, has witnessed the hard work and dedication Brooke has put in. "We are so very proud of Brooke and the recognition she has received via a NZC central contract offer for the upcoming season with the WHITE FERNS. This comes not only after a fantastic season in 2020-21 yet also many years of hard work and dedication to her cricket and self. We look forward to watching Brooke progress further again in 2021-22 both on the domestic and international stage." Archer said.
Producing BLACKCAPS and WHITE FERNS is certainly a priority for the Major Association. Ben MacCormack, CEO of ND for the past four seasons, believes this is just the beginning, with several players in the ND fold knocking on the WHITE FERNS door.
"Brooke has set the benchmark for future female cricketer's who come through the ND programme, and we know there are many who will be eager to follow in her footsteps. We are extremely proud of Brooke and all of those around her – coaches, support staff, players – there are many people in the organisation who genuinely assisted in developing a WHITE FERN for now and the future." MacCormack said.
"We're also lucky enough to be hosting almost half of the upcoming Cricket World Cup matches across Seddon Park and Bay Oval in early 2022, so it is particularly exciting to think we could have a few ND representatives playing at home in what will be a major event for the region." concluded MacCormack.