NORTHERN DISTRICTS CRICKET AND ZEMPIRE CAMPING EQUIPMENT ANNOUNCE NEW PARTNERSHIP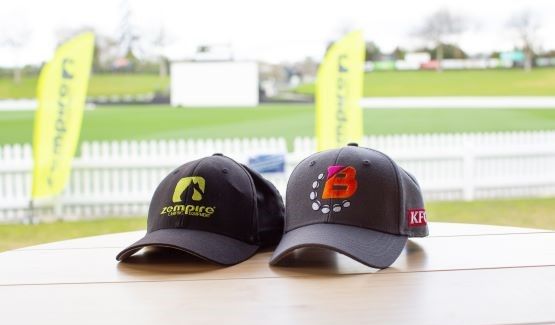 27 Sep 2023
Northern Districts Cricket (ND) have signed a partnership agreement with premium New Zealand-owned camping brand Zempire Camping Equipment for the coming 2023/24 and 2024/25 seasons. The partnership will focus on the Dream11 Super Smash T20 competition and give Northern Brave fans the chance to experience Zempire's range of camping equipment at three of the home fixtures in the "Zempire Zone".
With the cricket season just around the corner, families and friends will be hitting the sidelines to cheer on club and school teams, and Zempire is the perfect partner with their strong and easy-to-assemble air tents and shelters. ND CEO Ben MacCormack is excited to see cricket and camping come together this summer.
"We're thrilled to join up with Zempire. We know that kiwis love two things in summer and that's camping and cricket. You go around any campsite in summer, and you know you'll see kids playing cricket and families enjoying the game, so it's an obvious connection," said Ben.
Zempire is the New Zealand camping empire built by husband-and-wife team Richard and Sophie Knauf. Renowned for their award-winning air tents, clever designs and relentless pursuit to make camping more comfortable, Zempire is now one of the fastest-growing camping brands in the world.
Richard sees that camping goes hand-in-hand with cricket. "We're really excited to join up with Northern Districts this summer. While our products are primarily focused on camping equipment, we feel there is a really nice synergy between cricket and camping. We see our shelters at the side of cricket fields around the country and chairs at matches." says Richard.
Ben sees the same alignment, remarking, "We love what Zempire are doing. We believe Zempire match really well with the Northern Brave brand. Both looking to take on the world, change things and be disruptors to the camping and cricket markets."
The Hamilton-based Zempire team use New Zealand's wild and rugged environment to put their designs to the test. Their camping equipment is meticulously constructed for ease of use, packability, extra comfort and has been tested in some of nature's harshest proving grounds.
"We know that Northern Brave players leave no stone unturned in preparation to put on great performances and at Zempire we're the same. We go the extra mile to ensure we're one step ahead of our competitors." says Richard.
Fans will be able to visit the Zempire Zone at three of the Northern Brave Super Smash home fixtures: Friday, 22 December at Seddon Park; Friday, 12 January at Bay Oval; and back at Seddon Park on Thursday, 18 January. Zempire will also run activities at these matches with prizes up for grabs to help fans camp in comfort this summer.
The Zones will be set up on the raised lawn at Seddon Park, and the Bay Oval embankment, so fans can view Zempire's extensive tent and shelter range on display, including Zempire's new Roadiebase Canvas Shelter and Pro TM v2 Air Tent. "We know from doing hundreds of tent shows that our customers really want to see our tents and shelters up before choosing the one they want to buy next. This summer we're doing it in a more exciting way by having tents on display at the cricket, so customers can check out the products and also cheer on the Northern Brave." said Richard.
Ben is delighted that Brave fans will be able to try the products from the embankment. "We're really pumped for people to get along to the Zempire Zone at the Super Smash so they can check out the tents and shelters and see what a great product these are." he said.
In a final word, Richard noted that Zempire and ND also share similar DNA. "I think the two brands align really well, with similar core values. We're both on a mission to connect people and create memories, Northern Brave through cricket, and Zempire through camping and the outdoors." he concluded.
Check out Zempire at zempire.co.nz and see the Zempire Zone for yourself at these Northern Brave Super Smash home fixtures:
Friday, 22 December at Seddon Park | Northern Brave v Central Hinds and Stags
Friday, 12 January at Bay Oval | Northern Brave v Auckland Hearts and Aces
Thursday, 18 January at Seddon Park | Northern Brave v Canterbury Magicians and Kings