Northern Districts Cricket Announce New Partnership With Ricoh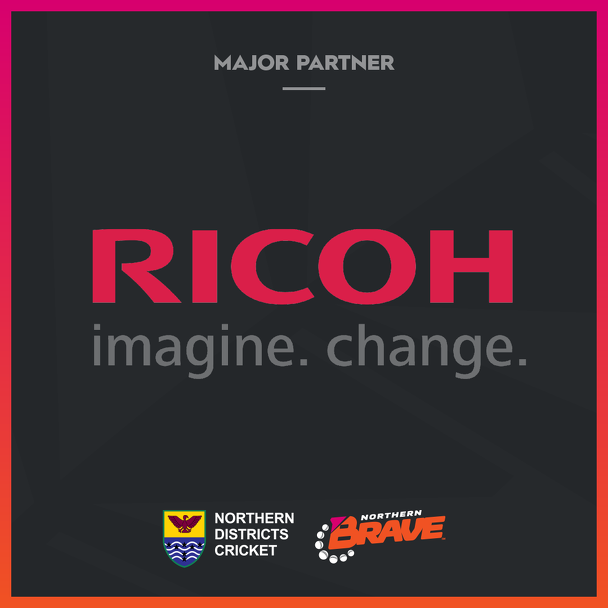 22 Dec 2021
Ricoh
and Northern Districts Cricket are proud to announce a new partnership
dedicated to delivering memorable experiences for fans, in particular schools,
with naming rights of the Ricoh Future Brave.
Ricoh
as an organisation, is driven by Ricoh Group's Founding Principles, focused on
seeking constant improvement, contributing to stakeholder wellbeing, including
families, customers, and society. Something otherwise known as, The Ricoh Way.
The
Ricoh Future Brave is an initiative led by Northern Districts Cricket, formally
known as the Future Knights and Spirit before the emergence of the Northern
Brave. With the recent re-brand of the Northern District's men's and women's T20
teams becoming one team, the Ricoh Future Brave represents the next generation
of cricket fans and participants, irrespective of gender.
Northern
Districts Cricket is the first and only Major Association to make the move to One
Club, Two Teams, after embarking on the transformational project with New
Zealand Cricket and the five other Major Associations back in 2017.
"It
is incredibly important for us to have a united brand, gender neutral in nature
and inspiring in name. We want to be the club that pushes the boundaries and
keeps evolving to ensure we are relevant for tomorrow's society." Northern
Districts CEO Ben MacCormack said.
"The
Ricoh Partnership and the Ricoh Future Brave initiative is a fine example of this
– where Ricoh and Northern Districts work together to provide kids with an
opportunity to walk onto the ground with our male and female players as they
take the field and create memories that will stick with them for life."
MacCormack said.
Ricoh
Hamilton Branch Manager Reece Johnson also acknowledges the organisation's passion
for providing memorable experiences for kids through the Ricoh Future Brave and
other community initiatives wrapped into the two-year partnership with Northern
Districts.
"Ricoh
is an organisation that understands our success is directly tied to the support
our community gives us. As such we are always looking for meaningful ways to
give back to the community that has given us so much.
Partnerships
with organisations like ND Cricket enable us to have a positive impact on so
many people – something we are extremely passionate about". Johnson continued.
Effective
immediately, Ricoh will be Northern District's exclusive printer/copier partner.
Commercial Manager at Northern District's Charlotte Twigg highlighted the benefits
of such a collaborative partnership for the future of cricket in the region.
"We've
been working together with the Ricoh team for a short time and there is already
such a shared sense of satisfaction around what we are able to achieve
together. The future of cricket, and sport in general, will be in safe hands
through partnerships like these. The Ricoh team have a genuine passion for
creating memories for people whether it is through the Ricoh Future Brave initiative,
surprising schools with complimentary tickets, or working with Northern Brave
players and delivery teams to host skills sessions. Ricoh's care for the
community and giving back is unmatched." Twigg said.
"In
addition, Ricoh is helping to generate more fans of the game through memorable
experiences, aligning nicely to our purpose of Connecting People, Creating
Memories." Twigg added.