Northern Districts Cricket Announce New Partnership With Roar Coaching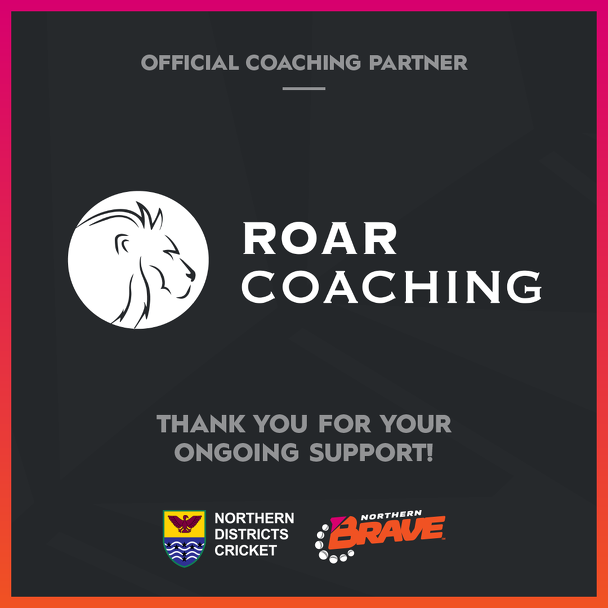 21 Dec 2021
Northern Districts Cricket have partnered with Roar Coaching; a small, passionate team dedicated to developing high performance culture across organisations in the Waikato and Bay of Plenty.
The team at Roar Coaching, led by Andrew Miller, aim to connect people to the skills, resources and relationships required to succeed in all aspects of their lives. Northern Districts Cricket is proud to partner with an organisation that shares such empowering values.
"Roar Coaching has been an unofficial partner of Northern Districts (ND) for many years now. Andrew and his team have assisted ND greatly over the past four years, in helping to build a team culture and workplace environment that enables our people to thrive." ND Chief Executive Ben MacCormack said.
Roar Coaching has frequently facilitated ND staff offsites and has played an influential role in the development of players, specifically within the women's programme.
Andrew Miller and his wife Hana, who is also involved in the business, have three daughters, and says, "The world needs female role models – women that are confident and happy to express themselves. It is hugely rewarding to help female athletes, and women in general, to build that confidence."
Northern District's women's player and all-rounder Charlotte Sarsfield, echoes this sentiment:
"Andrew is passionate about the mental processes and development of athletes, especially women in sport. He encourages people to see things from a different perspective and never limit yourself to just one point of view. Roar Coaching enables players to create their own positive mindset which allows them to perform to the best of their ability." Sarsfield commented.
Roar Coaching work with many corporate organisations across the Waikato/Bay of Plenty region, with particular emphasis on team culture and leadership development.
As the Official Coaching Partner to ND, Roar Coaching will be to continue to support the organisation through a calendar of Coaching, Leadership, and Culture Building Workshops for staff, players, coaches, and ND commercial partners.
Miller and his team also have a particular passion for sport, working alongside many sporting organisations and teams, including Professional Rugby teams and the New South Wales Swifts, helping the Swifts lift the Premiership trophy in 2019 Suncorp Super Netball Championship.
"Sport plays a hugely important role in society, in terms of people coming together, and we think ND is a great example in living their purpose of Connecting People, Creating Memories. Sport can be how we learn social skills for life and allows people to feel part of something.
To support ND in their gathering of thoughts, their purpose, and values, and how ND brings this to the world is just something we love to do. Our two organisations have a similar outlook on life, and we find it extremely rewarding and energising." Miller concluded.