Northern Districts Cricket Awards Winners 2021/22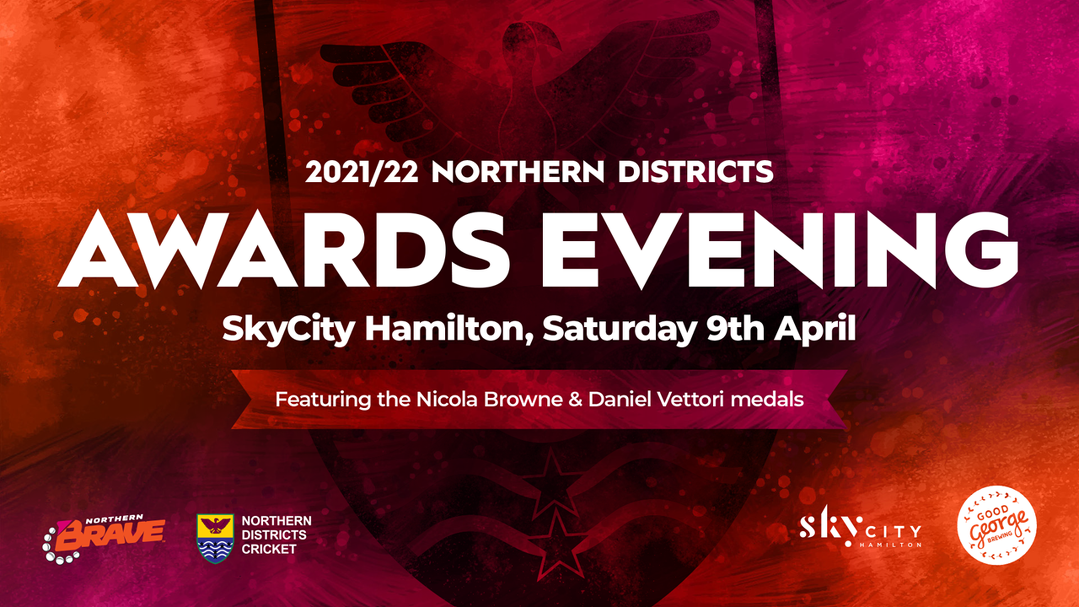 20 Apr 2022
On Saturday 9 April, Northern Districts Cricket Association was able to celebrate the 2021/22 season at our annual awards evening.
A massive thank you to all of our life members, board members, DA representatives, sponsors, player and staff for making it such an amazing season!
Congratulations to all the winners of awards, you can find the full list below.
Northern Districts Cricket Award Winners 2021/22
Fergus Hickey Rosebowl – Counties Manukau
SkyCity Hamilton NPL Player of the Year – Carys Aveyard
District Association Male Player of the Year – Sandeep Patel
McCaw Lewis Māori Player of the Year – Luke Istead
Emerging Official of the Year – Tyler Melville
Community Official of the Year – Brendon Davis
Community Groundskeeper of the Year – Vijay Changotra
Club of the Year – Otumoetai Cadets Cricket Club
Community Engagement Strategy – Karminder Thiara, Balpreet Singh, Daman Kohli, Pankaj Sharma
Outstanding Contribution and Services to Community Coaching – Peter Swan
Allan McBride Trophy for Service to Junior Cricket – Edgar Wilson
Service to Cricket – Wayne Aberhart
Cricket Express Scholarship for a Deserving Club or School – Tolaga Bay Area School
Young Female Player of the Year – Kayley Knight
Young Male Player of the Year – Tim Pringle
Regional Official of the Year – Christelle High
Plunket Shield Player of the Year – Brett Randell
Ford Trophy Player of the Year – Joe Carter
Hallyburton Johnstone Shield Player of the Year – Nensi Patel
Dream11 Super Smash Female Player of the Year – Caitlin Gurrey
Dreamm11 Super Smash Male Player of the Year – Joe Walker
Nicola Browne Medal Female Player of the Year – Nensi Patel
Daniel Vettori Medal Male Player of the Year – Joe Walker