Northern Districts Men's Batting Coach Brings Immediate Success to New Home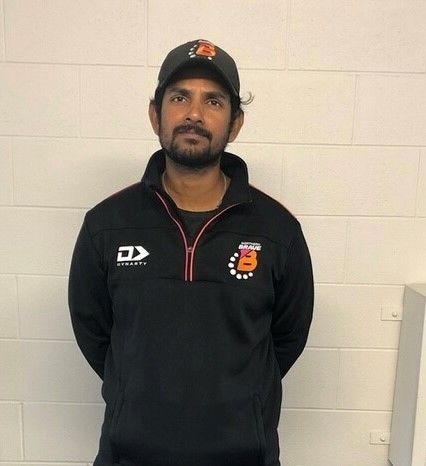 15 Mar 2022
Sri Krishnamurthy is in his second season as Northern Districts Men's assistant coach, holding the official title of Performance and Pathways Coach. His primary role within the coaching set up is to handle the batting side of things and he relishes the freedom that Head Coach, Graeme Aldridge, has offered him.
"I'm very passionate about batting and to work with the full freedom that G [Graeme Aldridge] has offered me with the group in that space is something I really enjoy."
"Because we have a group of very talented batters in our environment and we've got a mix of players with different calibre like we've got some BLACKCAPS in our set up and we've got a few batters that are possibly ready to take that step if needed, to step up and play for the BLACKCAPS but we've also got some emerging talent who in the future can be potential BLACKCAPS."
"You're always learning about these players, you're always trying to ensure that their needs are met, you're always trying to nudge them in the direction that they want to go with their cricket and that's part of why I coach as well. The ability to have an impact on different people and what they want to do and not just within cricket but broadly speaking their life as well."
He spent five seasons with Cricket Wellington prior to shifting north to the Waikato. And was even the New Zealand Under 19 batting coach for their World Cup campaign in South Africa in January 2020. That trip was one of the first times he got to work with Aldridge and Northern Districts Men's Team Physio, Paul Head.
"We had a few familiar faces from our ND set up who were on that trip, like G [Graeme Aldridge] was the bowling coach, I was the batting coach and Heady was the physio as well, Paul Head. And that was possibly a massive attraction for me as well, come that winter to apply for this role knowing that I have worked with these gentlemen before. And the sort of rapport we were able to create in South Africa during that Under 19 program was a massive factor in me deciding I want to apply for this role with ND. And sort of continue building those relationships that I've been able to build with the likes of G and Heady."
The side have achieved a lot of success already in Krishnamurthy's tenure, having made the Ford Trophy Final last season and won the men's Dream11 Super Smash title this year. He credits the friendship between Aldridge and himself as a big factor in the team's success.
"At the end of the day I just feel like with any team, I think the dynamics you share as a management group I think becomes pretty important for how you front up with the players and therefore in that respect I have the highest regard and respect for G, for how he operates."
"[It] makes me ensure I've got his best interest in mind, and I want to ensure he's doing well in the role that he's got and I'm sure that's the way he feels for me as well. Which I believe is a massive, massive factor in building that trust and ensuring we are trying to take the team in the same direction."
He describes is coaching style as one that is focused on building rapport with the players.
"My style of coaching is one where it's more relationship based. That's the foremost thing in my mind to have the ability to impact players and help win their trust. It is important you create a relationship with them. And to build that relationship you've got to get to know the person who is in front of you."
Sri's coaching career has taken in all over the world, but he says he thinks he's found a new home here in Aotearoa.
"If you look at my previous experience I spent four seasons in Australia, as in four years in Australia and four years in the UK broadly, before I moved to New Zealand. I was always thinking if I can do more than four years, if I go past those four years it possibly means I'm going to stuck here for my life. And that became the case, in 2019 I would've completed four years but here I am in 2022 still. That's definitely off the back of me having enjoyed my time here in New Zealand."
The biggest thing he has learned from his travels is how to interact with people from all walks of life.
"It all comes down to the people at the end of that day. Obviously coaching in different countries you're exposed to different conditions; you're exposed to different styles of play so on and so forth but distinctively you're also coming across people from different cultures, so you obviously learn a lot about people from different parts of the world and how they operate [and] what drives them."
And when asked what was next for him, Sri had a very relaxed response.
"If you' have asked me this question maybe a few years back, I would have given you a different answer."
"The big belief I have is if you're able to do the job you've got on hand pretty well, things in the future will take care of itself."
"Of course, in the future I'd love to explore different areas of work like head coaching being one, possibly working with an international team at some stage in the capacity of a batting coach. That's something I'd love to explore but like I said, I know there's time to achieve all those things."