Northern Districts Proud to Welcome Bayleys as Major Partner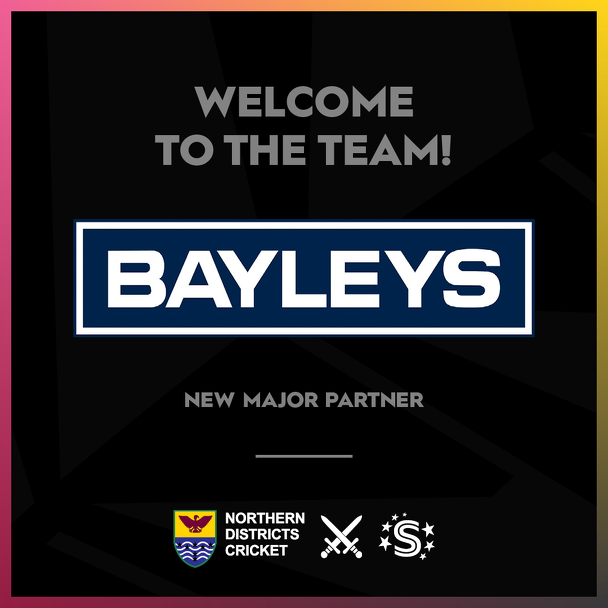 13 Sep 2021
Bayleys and Northern Districts Cricket are proud to announce their new partnership, dedicated to supporting the growth of the T20 game across both the male and female programmes.
Bayleys will join as Major Partner of both male and female (soon to be renamed) T20 teams for at least the next two years.
Bayleys is New Zealand's largest full-service, locally owned real estate company. Born in 1973, the business was founded when Pam, Graham and John Bayley started working from their family home in Pakuranga. Now, all five of Pam and Graham's children are still working in the business with over 90 offices in New Zealand and over 2,000 staff.
Shorter, faster formats of the game such as T20 cricket, are reaching new heights and the two organisations will work together in a partnership focused on building the profile of talent across the male and female programme to increase awareness, participation, and performance.
Managing Director Simon Anderson, who has a longstanding passion for the game and for Northern Districts Cricket, said: "Sport is a big part of our community and brings us all together providing many highlights and special moments. Bayleys has a strong community focus and provides support across many teams and events, so this partnership fits perfectly with our companies closely held values.
We are extremely proud to be supporting both the women and men's teams in this year's Super Smash. Here's to many great moments." Anderson continued.
Ben MacCormack, Northern District's CEO said: "We love creating partnerships with companies that have shared passions and values. Bayleys investment in cricket allows us to continue the momentum over the past few years in growing the game across our region. We are driven to create exceptional experiences through our elite team's performances and engagement with the community. This leads to inspiring the next generation to pick up a cricket bat or ball and have a go, which resonates with Bayleys."
Bayleys will become the exclusive real estate partner for Northern District's as they kick into pre-season training camps and prepare for another big summer of cricket, where the Dream11 Super Smash will have all matches broadcast live on Spark Sport and many on free to air.
Northern District's Cricket Commercial Manager Charlotte Twigg highlighted the importance of the new partnership for the future growth of opportunities for cricketers, male and female.
"This partnership links perfectly to our strategic objectives for cricket to be a game for all. Having a brand like Bayleys is extremely exciting – they're a company that prides itself in delivering excellence and operating with family values at its core. This aligns well with Northern District's culture and purpose to connect people and create memories."
For more of the latest news to come out of Northern Districts, head to www.ndcricket.co.nz