NORTHERN MĀORI ANNOUNCE STRONG SQUAD FOR THE INAUGURAL NATIONAL WĀHINE MĀORI TOURNAMENT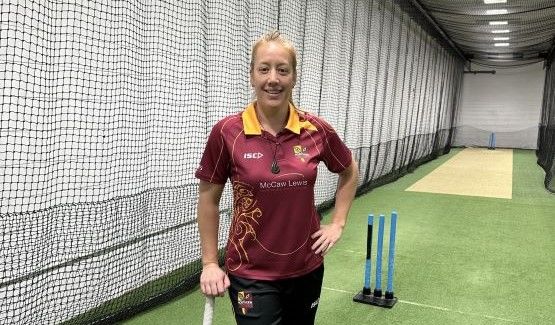 27 Sep 2023
The McCaw Lewis Northern Māori have announced a strong squad for the inaugural National Wāhine Māori Tournament in Hastings from October 13-15. The team, coached by Michael Rameka, features two current Aotearoa domestic cricketers and nine players who are part of the Northern Districts (ND) Cricket Academy.
Northern Brave wicketkeeper Holly Topp will captain the side, and she has expressed the deep connection that this tournament will foster and grow.
"What I am most looking forward to about the tournament is the kirikiti, obviously, but more so the fact that we will be gathered, connected by whakapapa and a common love for the sport. There is a different feel about playing Māori sport in so far as you're connected through your roots, an unbreakable bond that cannot be taken away."
The Northern Māori cricket programme was first developed in 2010/11 season. Northern Māori are selected from players in the ND region, incorporating Northland, Counties Manukau, Waikato, Hamilton, Bay of Plenty, and Poverty Bay. Waikato law firm McCaw Lewis Lawyers became the naming sponsor of the tāne and wāhine teams in 2016, and have remained strong supporters.
Michael Rameka is Head Coach, bringing his vast experience as a Physical Education Teacher and Teacher in Charge of Cricket at St Pauls Collegiate in Hamilton. He is also involved in the NZ Māori Secondary Schools Team, and ND is looking forward to having him involved and adding value to the programme moving forward. For Rameka, it's about more than just cricket.
"A tournament of this nature provides a unique chance for all involved to immerse ourselves in our rich Māori culture. It's a way to reconnect with our heritage and strengthen our identity as Māori."
"The team will be run by a number of quality players, including Holly Topp, a talented wicket-keeper batswoman. Their leadership and expertise will undoubtedly be invaluable in guiding our ND Māori women's cricket team to success in the tournament," he said.
Following the success of the Māori Men's National Tournament earlier this year, the women's tournament will feature five teams from across the motu, each playing four T20 games. Topp is grateful to have the oppotunity to attend.
"This being the inaugural event makes it even more special to attend. Ngā mihi nui NZC and ND for putting the pathways in place to help us getting there. Such a special time for Māori women's cricket. We just want to make our whānau- past and present- proud," she said.
Topp is joined by her ND team mate Sam Barriball, and current ND Academy athletes Mereana Hyde (former ND domestic player), Mia Chatterton, Ella Farrell, Sadie Stewart, Elle Archer, Dayle Anderson, Kiri Anderson, Elizabeth-Rose Pengelly Woodhead and Jessica Benge. Hyde is currently part of the NZC Pathway to Performance Coaching course, and wears three hats for the tournament as a player, Assistant Coach and Team Manager.
The introduction of the National Tournament represents a new opportunity for wāhine Māori to express their talent on a national stage and connect with other talented players from across Aotearoa. "This event is a golden opportunity for our Māori women cricketers to step onto the pitch against some of the finest in the game. With the majority of teams fielding domestic players, it promises to raise the bar in terms of competition and performance. Our players will be tested and challenged, and this exposure to high-quality cricket can only elevate their skills and take our women's cricket scene to new heights" says Rameka.
Topp is keen to see her side succeed both on and off the field. "Our team aspirations are to come out as wāhine toa, and to make our whānau proud whilst doing it," she said, adding: "It's an honour to captain this side."
Rameka is looking forward to being part of the first national Māori women's cricket tournament. "It's not just about coaching; it's about witnessing the growth and potential of our Māori women cricketers, both on and off the field, and being a part of this historic moment in our sporting history is truly exciting."
Northern Māori
National Wāhine Māori Tournament 2023
Dayle Anderson | Tainui
Kiri Anderson | Tainui
Elle Archer | Ngāti Māhanga, Tainui
Sam Barriball | Ngāti Rangitihi, Ngāi Tūhoe
Jessica Benge | Te Ati Haunui-a-Pāpārangi
Mia Chatterton | Te Rarawa
Ella Farrell | Ngā Puhi
Mereana Hyde | Tainui, Ngā Puhi
Zamera Ikiua | Ngā Puhi
Elizabeth-Rose Pengelly Woodhead | Te Aupōuri, Ngā Puhi, Ngāti Hine
Sadie Stewart | Ngāi Tahu, Ngāti Kuia, Te Āti Awa
Holly Topp (C) | Ngāi Tahu
Olivia Tremain | Ngā Puhi, Ngatiwai
Coach: Michael Rameka | Ngāti Tūwharetoa
Assistant Coach/Manager: Mereana Hyde | Tainui, Ngā Puhi