PAT MALCON MADE LIFE MEMBER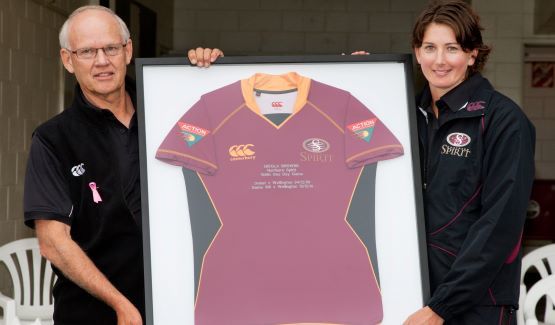 23 Mar 2023
Long-serving Northern Districts administrator Pat Malcon has been made a Life Member by the association at its last Annual General Meeting.
Malcon has had a 35-year association with Northern Districts across a number of roles.
"I think it's a tremendously well-deserved honour for all the work Pat has undertaken in a range of capacities. He has been a tireless contributor and epitomises the values we have for our Association without a doubt," said ND President Jeff Freeman.
His first involvement was an age group coach in the late 80s, whilst managing the training and development of coaches in the region. Malcon was also a member of the junior advisory board.
In 1996, Malcon moved into the role of ND Men's Head Selector, a position he still holds today after 27 consecutive seasons. This has seen him oversee the selection of over 800 games, working alongside seven head coaches and four CEOs over those years.
A year later Pat also took on the role as Director of Cricket, an all-encompassing position, overseeing cricket throughout the ND set-up: professional, pathway, community, Māori and the development of the women's game.
"It was pretty inevitable I got the role after I wrote all the questions", laughed Malcon, "I had been asked to put together the job description for the role, before then getting asked to apply for it a few days later!
"I was having second thoughts on being a school Principal, so they caught me at a weak time!"
Malcon counts the development of several world-class BLACKCAPS players from Northern Districts as a key success during the period, highlighting that at times over the last 20 years, ND have had more world-class international players than any other state in the world.
"I really looked to prioritise athlete development over short-term success in our approach to age-group programmes and tournaments," said Malcon.
"The Board were extremely supportive about taking winning age-group tournaments off my KPI's.
Instead, we looked to develop top cricketers using coaching principles I had seen across the world in all different sports.
I really enjoyed sharing and developing ideas with the other major associations in New Zealand, and we saw others starting to take ideas from what we were doing and adding it to their programmes."
Malcon retired as Director of Cricket in 2017 after 20 years in the role, and now serves as Chair of Selectors, sitting across both the men's and women's teams with the latter area holding a place of significance in his time at ND.
"I'm really proud of my involvement in helping develop the women's game here at ND. Just over 20 years ago we had no women's team and now we have one that shares the Northern Brave name today," said Malcon.
"Hopefully in the years to come we'll see more and more players come through ND that will develop into WHITE FERNS stars."