PETER BORREN CONFIRMED AS HEAD COACH – FEMALE PERFORMANCE AND TALENT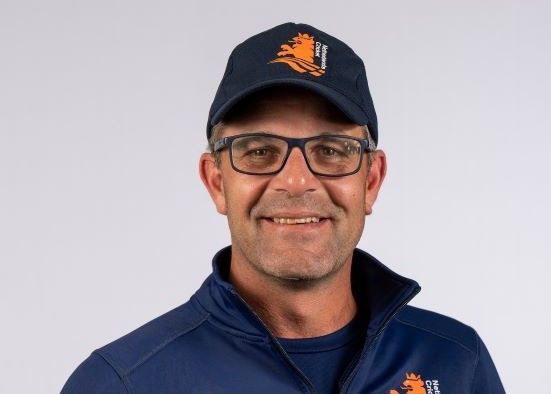 28 Jun 2023
Former Netherlands cricketer and coach Peter Borren has been appointed as the new Head Coach – Female Performance and Talent for Northern Districts (ND) Cricket Association.
Borren had a distinguished career as a player for the Netherlands, playing over 100 times in international cricket with most of them as captain, including multiple world cups.
Having transitioned into coaching at the end of his playing career, most recently Borren was the Assistant Coach for the Netherland Men's team at the T20 World Cup last year, and the ND men's Assistant Coach for the second half of the SuperSmash and Ford Trophy during the 22/23 season.
First order of business for Borren is getting to know the players. "At this stage I just look forward to meeting all the players and getting to know them a bit better. I have heard good things about the vibe amongst the playing group", he said.
"I am an active coach and I look forward to encouraging our cricketers to be smarter and more effective players. And in the same vein, incorporating that into an overall team playing style which in time will lead to us being a more competitive unit."
"Having worked briefly last season with the ND men's team, I was really impressed with the setup as a whole. I look forward to being a small part of the Northern Districts wider group as we work together to grow the sport here."
Borren is also excited about the chance to work with the Performance and Talent team at ND, saying: "I'm looking forward to helping talented female cricketers in the region reach their potential. Those in the squad and the young up and coming girls who can be our future stars."
Northern Districts and Northern Brave (w) all-rounder and vice-captain, Eimear Richardson, notes that Borren's vast international experience with teams aligns perfectly with the squads' aspirations in the coming seasons.
"The squad is really energised for the upcoming season and Peter's appointment. It is an exciting opportunity to see the direction that Peter leads the programme, squad and individual players," said Richardson.
"Peter's variety of experience from grassroots to global cricket including the ICC Men's World Cup campaigns as both a player and coach are some of the many attributes that we are excited for Peter to bring to the team."
"Peter's own journey as a player and coach really aligns with the current position of not only our squad currently, but also that of the overall game here in New Zealand where the game is starting to grow out of the fully amateur status. Having lived that journey himself, we are really excited for the experience and vision that Peter will bring to the group and game in New Zealand."
"With organisational aspirations to support and develop more WHITE FERNS, Peter's global experience and personal approach will provide a great boost to the programme and players, in helping to identify and nurture players to strive for higher honours."
"We're ever improving across all aspects and have sights set to really bring a confident and composed game. We've got some exciting talent within the group and thanks to Jo and Flynny's support last year and beyond, feel we are well positioned to push for some strong performances and improve on previous seasons."
ND General Manager – Performance & Talent, Ian Sandbrook, believes Borren is a natural fit for the women's programme. "Peter will be an excellent fit for our playing group with his tactical nous, work ethic, leadership experience, and genuine care and empathy for his players, being his standout characteristics," says Sandbrook.
"He will be working with a talented playing group with huge potential, and it will be exciting to see them develop under his guidance."
"I know Pete can't wait to get started with the players and we are all looking forward to working closely with him."
Borren lives in Papamoa with his wife and two boys and will be based in Tauranga for his Head Coach role.
This announcement is the latest in an exciting period of appointments for ND's High Performance coaching staff, with Borren joining Men's Head Coach BJ Watling and Men's Assistant Coach Daniel Flynn.