Retirement of Jimmy Baker leaves a massive hole in the Northern Districts Programme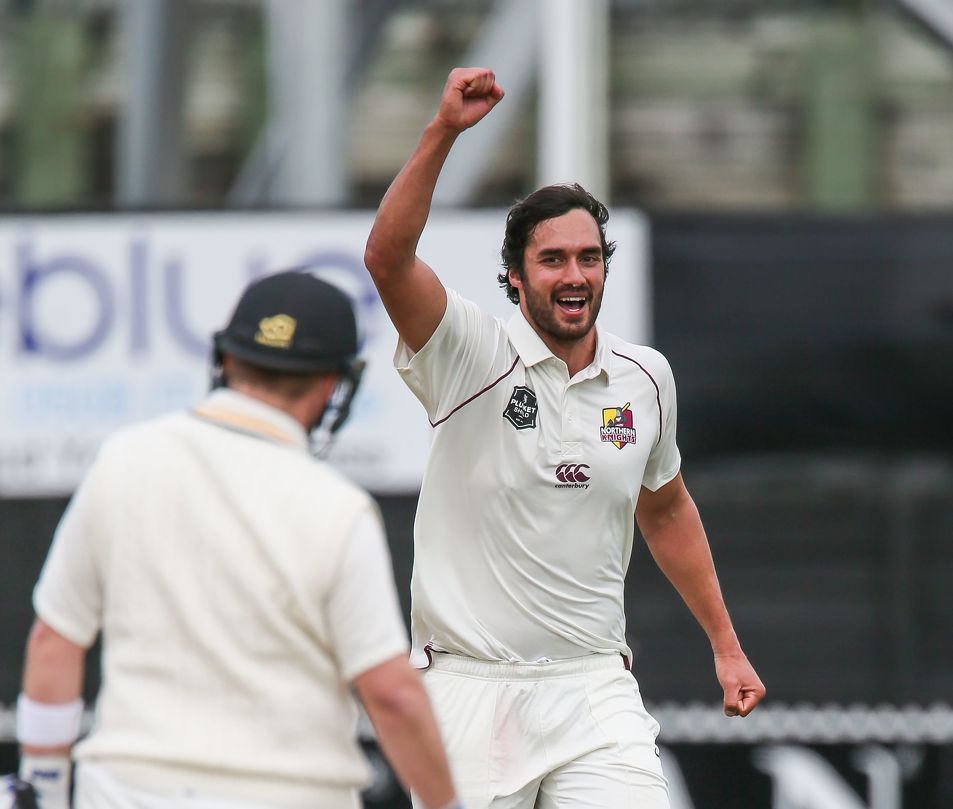 3 May 2021
Upon the completion of the 2020/21 summer, Northern Districts is today announcing the retirement of club veteran James Baker.
Baker has played an integral part in the Northern District's programme for the last decade and has held a significant role in the success of the men's team, particularly in the more traditional formats of the game.
Unlike many of his peers who enter the elite programme through their age-group cricket playing journey, instead, a teenage Jimmy Baker was discovered while out playing club cricket.
Pat Malcon, Chair of Selectors at Northern Districts, tells the story of a brilliant cricket career and a great human being in James Baker.
"Jimmy Baker, like other prominent Northern Districts (ND) pace bowlers (Daryl Tuffey, Brent Arnel, Graeme Aldridge), was a late developer. He did not feature in early age group teams. He first came on the ND radar when I received a phone call from Ben Kennedy, the captain of Fraser Tech Club in Hamilton and a coach involved in ND coaching programmes. Ben suggested I check out a young pace bowler in his club team. I went to watch James Baker play a game of club cricket and was impressed enough to include him in the ND U19 team for the 2006/07 National U19 tournament. Amongst his teammates in that side were Trent Boult, Tim Southee, and Kane Williamson.
Strong performances over the next few seasons at District Association representative level and for ND A led to his First-Class debut for ND against Auckland on Seddon Park towards the end of the 2010/11 season. Typical Jimmy Baker figures: 23 overs, 11 maidens, 32 runs, 2 wickets – a snapshot of what was to follow in future games. His first two First-Class wickets were Gareth Hopkins and Jimmy Neesham. That was the start of a First-Class career spanning 10 years.
In the early part of Jimmy's career, ND had a host of high-quality pace bowlers competing for places – Southee, Boult, Aldridge, Arnel, Bradley Scott, Corey Anderson, Anurag Verma – so early opportunities were restricted. His breakthrough season came in 2014/15 when he became a team regular and took 33 wickets at an average of only 22 runs per wicket. This included a career highlight 10 wicket bag against Auckland at Colin Maiden Park, 6/75 and 4/53.
Jimmy repeated his 33-wicket haul the following season and then achieved a career high 34 wickets in 2017/18. This included his best bowling figures of 6/72, again against Auckland, this time at Eden Park. Jimmy has continued to be a regular wicket taker over the past three seasons and gave his career the best possible finale with a 5-wicket bag against Otago in his final bowling innings (5/55 from 27 overs with 10 maidens). It also saw his total First-Class wickets for ND pass the 200 mark, alongside teammates Ish Sodhi and Scott Kuggeleijn who also took their 200th wicket this season. Baker, Sodhi and Kuggeleijn join an exclusive club of seven players to have reached that milestone – the others being Graeme Aldridge, Cliff Dickeson, Joey Yovich, Grant Bradburn, Brent Arnel, and Tom Puna.
In 76 First-Class games for ND, Jimmy took 201 wickets at an average of 29.67. He was also a capable tail end batsman, with his highest First-Class score of 41 not out v Otago in 2015/16 and an average in double figures. However, his highest score for ND was 48 in a List A game v CD at Pukekura Park in 2016 (off 48 balls with 4 sixes).
Jimmy's strength as a pace bowler was his mastery of line and length. He consistently bowled in the channel just outside off stump. His height and strong physique (advantages that also enabled him to compete at the highest levels of NZ volleyball) gave him more bounce and pace than the batsmen often expected.
His consistent accuracy was a great asset in the longer red ball format, less so in the more unpredictable white ball formats. Hence he made only occasional appearances in List A games, 15 in total, in which he took a further 20 wickets for ND. He would also be proud of his List A batting average of 31 (helped by seven not outs, it must be noted!). His only T20 appearances came when he represented Samoa in four games in a Pacific tournament in 2019.
Every team would love to have a Jimmy Baker. No histrionics or petulance, always good humoured and positive, always giving 100%. ND was lucky to have such a player as Jimmy Baker for the past decade."
Coach of the Men's Programme Graeme Aldridge also echoes the words of Malcon, admitting the absence of James Baker will leave a noticeable gap in the culture of the playing group.
"Bakes' retirement will leave a massive hole in our group both on and off the field. He has been valuable in allowing us to keep developing younger bowlers in the longer format as we always knew what we were going to get from Bakes. Off the field he led the culture through actions which is always the most powerful way. You only had to watch the reaction to his 200th wicket, to see what he meant to the group. To finish on that high is fitting for his character and it will remain as one of the great memories in ND history." Aldridge said.
Northern Districts GM High Performance Daniel Archer adds, "We all know that in sporting organisations and teams it is the quality and calibre of person that makes the greatest impact on culture and environments. Jimmy is one of the best I have been associated with in any sport anywhere. Northern Districts is certainly losing someone special in James."
When asked what his time at Northern Districts has meant to him, it was no surprise to hear Baker was quick to acknowledge his team and the calibre of the people he had around him.
"It has been an absolute privilege to have represented ND playing such a high level of cricket. I have been blessed to have played alongside and against so many world class players. We are very well looked after at ND and I feel so lucky to have been guided by so many great coaches, trainers and support staff." Baker reflected.
And unlike most fast bowlers, Jimmy admits to enjoying the long days batting more than anything else in his career, a true sign that team culture and people are what matter most.
"I have so many great memories from my career. There have been a lot of overs toiling away bowling into some stiff winds on very flat wickets. But it is the days we were batting I am going to miss the most. Batting at 11 meant I got to put my feet up, watch us pile on runs and got to talk smack and listen to stories with the lads." Baker reminisced.
There is no doubt such a team-oriented player will leave a big hole in the Northern Districts framework. We wish you all the best for your next chapter Jimmy, and from everyone at Northern Districts, thank you.
Thanks also to Pat Malcon for the detailed tribute of a fantastic cricketer.