Stars set to shine at Northern Districts venues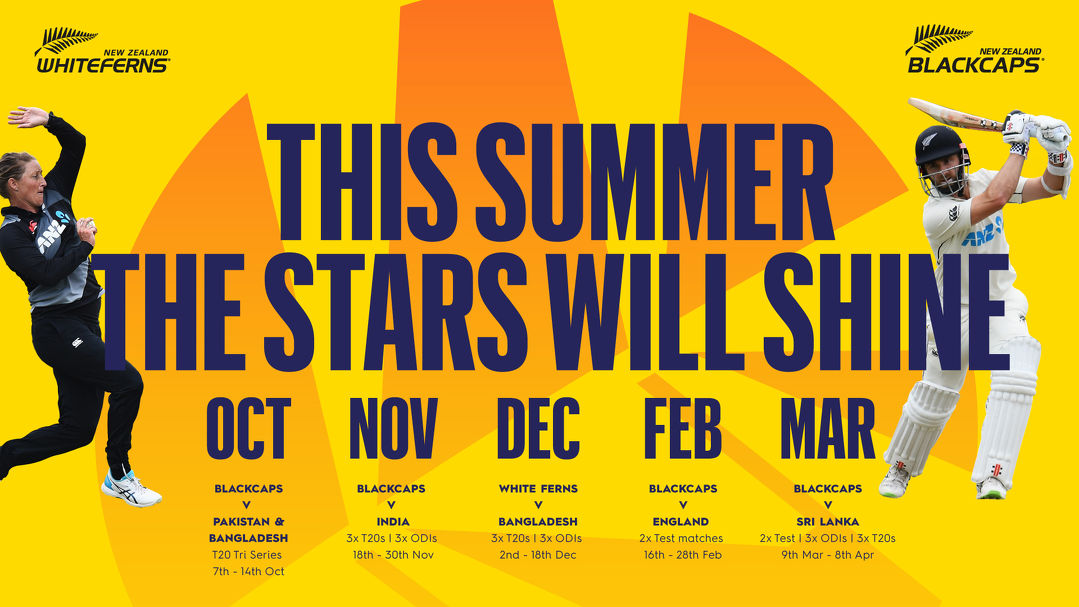 28 Jun 2022
Cricket fans in Northern Districts will be treated to white ball cricket against world powerhouse India, a day-night Test against England, and another two inbound touring teams after New Zealand Cricket confirmed a jam-packed home international schedule.
In a 2022-23 season that will see the WHITE FERNS and the BLACKCAPS head offshore for their respective ICC T20 World Cups, domestic cricket fans can look forward to a massive summer including the first pink ball day-night test match in New Zealand since 2018 when the BLACKCAPS take on England at Bay Oval in Tauranga next year.
The fixture is one of six international matches set to take place in the Association after New Zealand Cricket confirmed the schedule for the 2022/23 season.
Northern Districts CEO Ben MacCormack is pleased to see the schedule after two seasons interrupted by the COVID-19 pandemic.
"It's great to get the international schedule out early which will allow cricket fans to plan their summer viewing in our region," says MacCormack.
And with two international venues within Northern Districts boundaries fans are spoilt for choice with options for the upcoming summer.
The BLACKCAPS will start their home season will start in early October with a T20 tri-series, before India arrive in New Zealand a month later for three-match series in both forms of white ball cricket including a T20 in Tauranga and an ODI in Hamilton.
The WHITE FERNS are up next when they host Bangladesh in a T20 and ODI series before departing in January for South Africa, where they will contest the ICC Women's T20 World Cup. They will play an ODI in Hamilton the week before Christmas.
"We're lucky to be able to build on the foundations of last summer's ICC Women's World Cup and it will be great to see the WHITE FERNS back in action at Seddon Park," says MacCormack.
England and their Barmy Army will visit both venues in the new year, with the tourists facing a New Zealand XI at Seddon Park, before taking part in the historic test in Tauranga a few days later. And Sri Lanka's arrival in New Zealand at the end of February will round out the summer with an ODI at the end of March.
New Zealand Cricket have confirmed ticket prices at all BLACKCAPS and WHITE FERNS games would remain the same as last year's discounted levels.
Tickets are now on sale to the general public: https://bit.ly/3NoulUv
2022-23 International Schedule | Seddon Park matches
Sunday, 27 November 2022 at 2.30pm – 2nd ODI | BLACKCAPS v India
Sunday, 18 December 2022 at 11.00am – 3rd ODI | WHITE FERNS v Bangladesh
Wednesday, 8 February 2023 – Saturday, 11 February 2023 (start time tbc) – 4-Day warm up | England v NZXI
Friday, 31 March 2023 at 2.00pm – 3rd ODI | BLACKCAPS v Sri Lanka
2022-23 International Schedule | Bay Oval matches
Sunday, 20 November 2022 at 7.30pm – 2nd ODI | BLACKCAPS v India
Thursday, 16 February 2023 – Monday, 20 February 2023 from 2.00pm daily – 1st Test | BLACKCAPS v England