Super Smash Game 5 Match Reports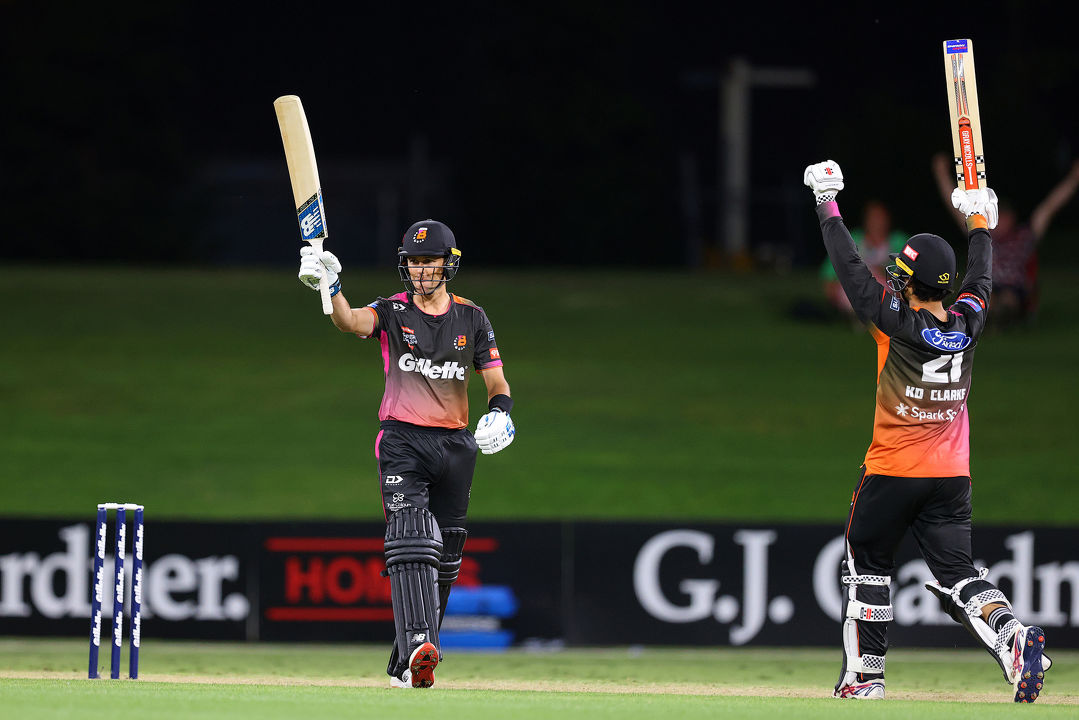 23 Dec 2021
It was Christmas at the Bay tonight as our Northern Brave sides hosted Canterbury Magicians and Kings in the Dream11 Super Smash.
Visiting skipper Frankie Mackay won the toss and chose to bat fist. Our girls started well with Lauren Heaps striking in the fourth over. Then some strong partnerships in the middle helped the Magicians gain momentum, but quality death bowling helped restrict them to 142/6 after their 20 overs. Heaps (1-14), Kate Anderson (1-10), Brooke Halliday (1-29) and Nensi Patel all picked up one wicket each as well as a run outs for Shriya Naidu and Holly Topp.
We then went out to chase and started well with Caitlin Gurrey and Kate Anderson putting on a 63-run opening partnership before Gurrey departed for 29. Brooke Halliday was next to go for 7 and then followed shortly after by Anderson for a well made 49. Unfortunately, from that point on the Magicians bowlers took over and our girls fell 16 runs short. Anderson and Gurrey were the top scorers and Lucy Boucher also chipped in with 11.
Then it was the men's turn. Jeet Raval won the toss and was almost immediately rewarded as Trent Boult struck in the first over. Our bowlers backed up their effort on Monday with another great showing as they were able to pressure the Kings batsmen and take regular wickets, eventually bowling them out for 107. Joe Walker finished with tremendous figures of 3-13 from his four over. Boult (2-21), Sodhi (2-22) and Anurag Verma (2-26) all picked up two as well as Brett Hampton getting one in his first T20 appearance of the summer.
In our pursuit, it was a quick start as a one-legged Katene Clarke took 29 off the second over, including four 6's in a row. The following over he was forced to retire hurt, but not before giving his gloves to a young fan in a special moment. After that our batsmen struggled to gain momentum and lost regular wickets. It came down to the final over needing 8 to win with four wickets in hand. The first two balls saw wickets fall then Trent Boult was able to score a single before we lost another wicket. This meant Katene Clarke was forced to come back out and take strike. He was able to get a single away out to cover, leaving Boult on strike needing a six off the final ball. And he did not disappoint, rocking back and smashing it over mid-wicket to claim a dramatic victory for the Brave. Clarke finished 32 not out. Tim Seifert (15), Joe Carter (13) and Brett Hampton (11) also all made contributions.
Both of our sides will have a few days off for Christmas before suiting up again against the Central Hinds and Stags on December 30 in New Plymouth.
Photo credit: Photosport